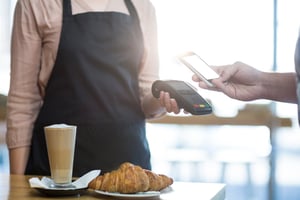 It seems like we're doing everything on our smartphones today—from reading the news and taking high-quality photos, to ordering and paying for food ahead of time. Businesses need to be ready to accommodate this ongoing transformation by adopting new payment acceptance technologies, such as mobile wallets, an additional capability of NFC contactless technology. Consumers are already asking for it—this holiday season, 30% of consumers plan to use smart payment methods while shopping in store: 24% by smartphone and 16% by wearable (e.g. Apple Watch). To add, younger generations are starting to use their smartphones for things like storing their university ID and paying for extracurricular activities through an app. By being prepared to accept NFC contactless payments and allowing customers to pay how they want to pay, businesses can be at the cutting edge of technology, especially as these students will come to expect it.
Mobile trends among younger generations
Mobile wallets are beneficial for consumers because they don't need to carry a wallet, the checkout process is quicker and it can even make them "look cool." We're also seeing that using a smartphone for things that typically require a physical card or cash is becoming more and more common, especially among younger generations. Recently, Apple made a deal with three universities, allowing students to keep their student IDs on their smartphone and Apple is sure to roll this out with other universities and schools in the future. Students can use their ID to get into school building as well as pay for food all on their smartphone.
Another way students are using their smartphones is to pay for extra-curricular activities. A mobile application in South Africa, called Karri, helps parents give their children money without having to send them to school with an envelope of cash. This makes it easier for parents to provide their children with the money they need, and it is much more secure. With Apple Pay Cash launched earlier this year, we could see this trend impacting the U.S. quickly as well. These trends among students in the U.S. as well as other parts of the world, point toward wider adoption of mobile wallets sooner than we may think through applications such as Apple Pay and Android Pay.
Allow customers to pay how they want to pay
Younger generations are being groomed to expect and demand the ability to use their mobile wallet. Students that are currently using their ID on their smartphone or paying for extracurricular activities on their smartphone have grown up in a generation of rapidly expanding technology. They will eventually dominate the consumer market and capturing their attention and their loyalty is key to growing your business. As mobile wallet acceptance becomes more universal, these consumers will already be familiar with the technology and ready to use it in their everyday life.
Mobile wallets and Value-Added Services
With a strong mobile wallet strategy, businesses are able to integrate additional features such as loyalty, special offers, push notifications, coupons, etc. They're also able to streamline the process to sign up for loyalty and rewards programs, making it possible for customers to sign up with just a tap after paying with their mobile wallet. Through this, businesses are able to drive higher baskets and loyalty, boosting revenue and providing a better customer experience.
Mobile wallet acceptance can have huge benefits for both consumers and businesses, especially as they become more robust with value-added services. Looking into the future, businesses should consider adopting mobile wallet acceptance now so that they are prepared for a generation that will expect to be able to pay with their smartphone wherever they go.
Are you ready to implement a mobile wallet strategy for your business? Drop us a line and we can help you determine your best path forward.
Allen Friedman is the VP of Payment Solutions at Ingenico Group, North America