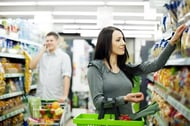 The retail shopping experience hasn't evolved much in the past 10 years. While some retailers have introduced new technologies to enhance the in-store shopping experience, most retail environments remain fundamentally unchanged. Customers walk in, they pick up the goods they want and they wait in line at the checkout counter.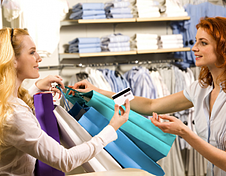 The waiting can be inconvenient and creates an incentive for customers to consider shopping at other stores or via digital platforms such as online or mobile. Rather than a complete migration to online shopping, a recent study by PWC found that consumers are still looking for a better in-store experience to make it worthwhile for them to visit a brick-and-mortar store. Additionally, 46 percent of respondents believe that greater ease at the point of checkout would make their in-store shopping experience better.
So, to attract and avoid losing shoppers, merchants are now researching and implementing ways to elevate the retail shopping experience by creating more value for the customer and making the checkout process faster and easier. Here are three strategies merchants can execute to achieve this and improve the in-store shopping experience.
1. Enterprise mPOS
Merchants of all sizes are already aware of the benefits of mobile point of sale (mPOS) to their business. It gives retailers the ability to take customers' in-store experience to the next level by allowing them to check out quickly—anywhere in the store. This strategy is great for line busting and interacting with shoppers wherever it is most convenient. For example, a customer in an apparel store might have questions about a product – a sales associate equipped with a tablet (including access to retail business applications) and an enterprise-grade mPOS solution can better answer the customer's questions by quickly checking on available stock and helping them complete the purchase. It can also help sales associates to upsell additional products that complement the customer's originally planned purchase.
2. IoT Payments
The market for Internet of Things (IoT) devices is growing rapidly, and payments are being integrated with them. Payment rings and smart watches are great examples of IoT payments in action on the consumer side. They improve a customer's shopping experience while making sure the transaction is secure. On the merchant acceptance side, solutions like Connected Screens are emerging as another IoT innovation poised to keep customers in stores. Connected Screens are embedded with technology to accept NFC/contactless payments including contactless cards, Apple Pay, and Android Pay. In addition to creating new, self-service payment experiences for consumers, merchants report that Connected Screens can convert customer impulse into immediate sales through an optimized 3-5 second checkout process and provide a frictionless experience by using streamlined payment functions.
3. Omni-Channel Architecture
A great shopping experience is about consistency – whether the consumer is buying in-store or online. Merchants need to think about how they can provide their customers with a consistent shopping experience with the same convenience and easy checkout—irrespective of the channel. Whether it's the look and feel of the store and your eCommerce portal, or a seamless payment experience across these channels, focusing on creating a seamless omni-channel experience for customers can benefit merchants.
Additionally, according to a recent survey by Harvard Business Review, omni-channel shoppers spend an average of 4 percent more on purchases whenever they are in a brick-and-mortar store compared to shoppers who interact with retailers only through one channel. The report also mentioned that omni-channel shoppers are 23 percent more likely to visit a brick-and-mortar store, which in turn can help increase the likelihood of being able to upsell or cross-sell to the customer.
Additionally, omni-channel solutions, such as in-store mobile devices and eCommerce, help with the consolidation of consumer data and analytics, which helps merchants better understand their customers and their buying habits. Retailers can use these insights to improve their efforts and develop new strategies and innovations to enhance customer experience and maximize their overall sales potential.
Some of these technologies are already on the market, while others may be yet to arrive. However, merchants need to start thinking about these technologies as they head into 2017 and plan investments to encourage more spending and loyalty from customers.
I hope this blog post has been helpful. What are some other strategies you think retailers and merchants should consider? Tell us in the comments section below.
Greg Burch is the Head of Product, Software, North America / Ingenico Group