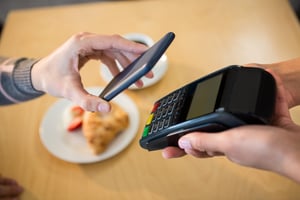 Payment acceptance for the longest time was thought to be a necessary business expense. But over the last decade, a few significant changes have transformed the definition of "payments" in the industry. One of the changes that acted as a catalyst in this transformation is the improved efficiency in carrying out electronic transactions. Combined with the advancement in technology over the last two decades, innovative solutions have become easily available in the market for all merchants (big or small) looking to improve efficiency and enhance their customers' experience.
From a business owner's standpoint, technology used for payments has emerged from the shadows of being considered a necessary expense and has transformed into a business tool that provides merchants with benefits to help create additional revenue streams, improve the customer experience and drive loyalty. Sure, payment technology is still complex, as the ecosystem is comprised of many elements such as sensitive card information and often requires multiple integrations. However, merchants are realizing that payment technology has the potential to provide more value than they once gave it credit for.
There are many ways the payments industry has evolved over the years and made it easy for anyone to become a merchant. Whether a large retail store is looking for new technology to improve efficiency and enhance the customer experience, or an artist selling hand-made crafts at a farmer's market, payment acceptance solutions have become more accessible and focused on providing business value. Some of the advancements that have helped payment technology evolve, include:
Mobile Point of Sale: Over the last few years, we've seen a significant change in how merchants across industries are approaching payments and they are doing it with mobile point of sale

(mobile POS)

. Whether you are a retailer helping a customer checkout in the aisle to alleviate traffic during busy times, or a food truck accepting any electronic payment type, no matter where you are, mobile POS has many benefits. These solutions have also helped restaurants bring payment acceptance right to the customer at their table

s

providing a convenient and secure environment to pay.
Payment Security: Security of payment transactions is an ever-present challenge in the industry. Data breaches and other cybercrime have been increasing at an alarming rate in the U.S. According to 2018 Thales Data Threat Report, Retail Edition, compared to last year, 50 percent more merchants have revealed that they experienced a data breach in the past. With technological advancements and awareness, more merchants are now able to detect breaches and take the appropriate action. A semi-integrated approach to payments has also picked up steam and has now become a very common practice among merchants of all sizes. This approach allows businesses to separate the sensitive card data from their point of sale (POS) system. By doing this, cardholder data is not stored on the POS system protecting merchants and its customers. This also helps businesses reduce their overall PCI scope, saving them time and resources. Semi-integrated is a proven solution that has allowed merchants to implement and enhance payment security in their businesses.
Cloud-Based Apps: As more merchants start focusing on providing a great customer experience and creating efficiencies in their business, cloud-based applications have jumped to the forefront. These applications are designed to help merchants take the payment experience to the next level.
To increase efficiencies, merchants can use these apps to:

Manage personnel timesheets with apps supporting clock-in and clock-out features
Send digital receipts to customers saving paper and time, enhance the customer experience

Merchants can also use these apps to enhance the guest experience with:

Remote check-ins for hotels where travelers are assisted away from the traditional front desk to speed up the process during busy times
Customer surveys in retail to find out more information and help refine their experience
With a myriad of apps available, merchants gave the flexibility to add value to their business in ways they see fit.
Strong, innovative technology is at the foundation of our payments ecosystem and this will keep evolving as the industry moves forward. Much of this technology has been available for a few years and it is exciting to see the market embracing it. Today, customers are becoming more savvy and secure payments are expected. Merchants of all sizes are now in a position to deliver the experience their customers expect.
Drop us a line and let's talk about your business needs.
Bradford Giles is the SVP of Marketing & Sales Enablement at Ingenico Group, North America