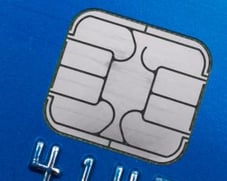 In 2015, the U.S. became the last developed country to move to EMV in an effort to combat the rampant credit/debit card counterfeit fraud. It has been three years since the EMV migration kicked in and a lot has changed since then. Recently, Visa released new data along with an infographic highlighting the progress of the EMV migration. Although we used Visa's published infographic for this blog, we expect proportionally similar results were seen across all U.S. card brands. After reviewing the results, here where I feel we stand:
Status of Counterfeit Fraud

According to Visa, for merchants who have upgraded their payment infrastructure to accept EMV cards, counterfeit fraud has dropped by 75 percent as of March 2018 when compared to the numbers back in September 2015. The report also mentions that counterfeit fraud dollars for all merchants in the U.S. have also declined by 46 percent. Considering counterfeit fraud was rising at an alarming rate, the introduction of EMV cards has been successful in helping curb that and it continues to do so. Even though accepting chip cards wasn't mandatory, merchants now are well aware of their security benefits.
EMV Acceptance is Becoming Common
Over the last three years, more merchants have started accepting EMV cards. According to Visa's data, over 3.1 million merchant locations across the U.S. now accept EMV chip cards – that is 67 percent of all U.S. storefronts – a 680 percent increase since the beginning of the migration. This shows how aware merchants have become to take important security measures that affect their customers and business. Some merchants are less vulnerable targets for counterfeit card use because their business is high-volume in small-ticket merchandise, but they can be victims of data theft. EMV not only makes it impossible to counterfeit credit/debit cards, it also makes any card data in the merchant's system, even if temporarily, less valuable to cyber criminals.
Rise in the Number of Chip Cards in the Market
Over the last three years, the card brands have worked hard to make sure they get EMV chip cards in the hands of every consumer in the U.S. According to Visa, by the end of June 2018, there were 499.7 million Visa chip cards in the market. Compared to 2015, this is a 214 percent increase in the number of chip cards. In fact, there is likely only a handful, if any, magstripe-only cards in circulation that haven't expired.
Rise in EMV Transactions in the U.S.
As more merchants have become equipped to accept chip cards, the volume of EMV transactions have also seen an increase. According to Visa's data, the number of chip transactions have increased from 79 million in 2015 to 1.7 billion in 2018. And the dollar volume has increased from $4.8 billion in 2015 to $76.7 billion in 2018. In June alone, 97 percent of overall U.S. payment volume was on EMV cards.
It's been three years since the EMV liability shifted in the U.S., and we've come a long way in the payments industry. Both card issuers and merchants continue to work hard to help with the EMV migration as there is still more work to be done. However, there is a lot to look forward to in the coming years. NFC/contactless payments, including mobile wallets such as Apple Pay and Google Pay, is expected to grow over the next couple of years in the U.S. Other technologies, including wearables in the form of rings, are largely in the pilot stage in other parts of the world, but we could see both the dedicated-card and multi-card rings in the U.S. market within the next two years.
What payment technology are you excited about? Tell us in the comments section.
Allen Friedman is the VP of Payment Solutions at Ingenico Group, North America