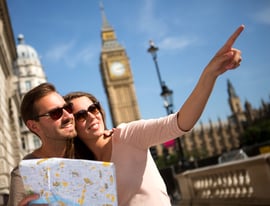 The U.S. travel industry as a whole has been on a steady incline since recovering from the economic recession a decade ago. Companies can compete by offering unique experiences to their customers in whatever travel-related vertical that they're in. Millennials are especially known for craving unique experiences, and 77 percent of them will use all or most of their vacation time this year. Let's take a look at some recent technologies that are beginning to impact the way we travel, whether it's in transportation, hospitality or restaurants:
Transportation
Transportation, whether it's by plane, train or automobile, is on track to being heavily influenced by biometrics. Voice-enabled technologies, such as Apple's Siri and Amazon's Alexa, have become a huge part of making consumers' day-to-day lives more convenient. Some reports estimate that by 2022, Americans will be using close to 870 million voice-activated devices. Much like any other aspect of consumers' lives, they are also looking for convenience when it comes to travel. Biometrics-enabled technologies provide both the convenience and security that are needed in the travel industry. Although biometrics hasn't gained widespread adoption in the transportation industry yet, it is seeing growing interest. For instance, Clear is a security program that allows passengers to bypass airport security lines by using biometrics to validate their identity, addressing the need for both convenience and security. In the coming years, biometrics, as it relates to the transportation industry is sure to become more prevalent.
Hotel & Lodging
When it comes to the hospitality industry, convenience is also a huge factor in creating great customer experiences. Voice-activated devices are being brought into the hotel experience with solutions such as Alexa for Hospitality with Marriott. The virtual assistant acts as an in-room concierge, allowing guests to ask information about the hotel, control the room's lighting, temperature, TV and more. It even allows guests to checkout using their voice, eliminating the need to stop by the front desk on their way out and alerting the hotel team that the room is ready to be cleaned for the next guest. Solutions like this one not only contribute to a more positive guest experience, but they also help with hotel operations, like room turnover, run more smoothly. As consumers become more comfortable with the technology, more hotels are sure to follow in Marriott's footsteps.
Food & Beverage
Over the years, the food & beverage industry has seen many innovative technologies that have delighted many traveling guests. A recent example is the Pepper Robot that became a common feature at select restaurants across many North American airports. This 4-foot tall humanoid was designed to greet and engage with travelers by providing them menu options, recommendations with a unique and meaningful experience. Another restaurant technology trend that has been successful in enhancing the guest experience is Pay-at-the-Table. Designed to replace the time consuming, multi-step process of accepting payments at restaurants, Pay-at-the-Table is slowly gaining momentum. New Android-based POS solutions also allow staff to take food orders on the same device improving efficiency and table turns. Guests who prefer cashless transactions (including millennials) and travelers who are already used to this method are just a few examples of the broad potential that Pay-at-the-Table carries. By providing new and innovative food ordering and secure payment acceptance to their traveling customers, restaurant businesses can enhance the customer experience and boost their profits.
It's All About Word-of-Mouth
The travel industry is booming and providing customers with unique experiences, through technologies like biometrics, is key to beating the competition. When it comes to building loyal customers though, the travel industry is trickier because different travelers are coming and going from place to place. It turns out, consumers rely on their friends and family the most for opinions when traveling. When booking hotels, 83 percent of 18 to 34 year-olds say they are "more likely to book a hotel after seeing images from someone they follow on social media." When choosing a destination or activity, word-of-mouth was the top response. In order to generate positive word-of-mouth either in person or via social media, companies need to implement the latest and greatest technology to create unique customer experiences. What do you think? Leave a comment below and let us know your thoughts!
Bradford Giles is Senior Vice President of Marketing and Sales Enablement at Ingenico Group, North America