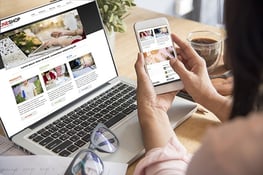 In the past, my family used to have a single computer that we all shared. My wife, kids and I used it for everything: doing homework, watching videos, catching up on work, etc. Now we all have our own devices, and it's rare that my family members use my laptop or phone, and vice versa. Our devices aren't communal anymore – they are personal, and have greatly impacted our individual user experiences.
eCommerce is getting personal
Roughly 60% of the global population now uses smartphones, a figure which rises to roughly 80% in some of the tech-savvy countries around the world. Technology is getting more personal, and by extension, so is eCommerce. Consumers are interacting with money in ways that never existed before. When combined with personalization and advances in financial technology, powerful opportunities arise for both businesses and consumers who want to connect in new ways.
It's already possible to create accounts with certain supermarkets, order groceries online, and confirm your order with a thumbprint. The entire process can happen within minutes on your mobile phone, and the more often you use it, the more customized it becomes with relevant suggestions and personalized information. Now imagine a world where grocery stores can identify your shopping habits with such precision that they anticipate when you will run out of items in your home. Already today, Amazon's Dash Replenishment Service enables your connected devices to monitor usage of basic staples and automatically orders them as needed.
These offerings may seem futuristic, but we are already getting close, thanks to some technological advancements:
Personalization – new technologies have led to a world where mobile devices can be used as an extension of the individual. Biometrics, such as thumbprints, iris scanning and even Apple's enhanced facial recognition, all offer authentication possibilities that make purchasing quicker and easier.
Digital marketing and tracking technologies – companies can now gain a deeper understanding of their customers' preferences and online behaviors. By analyzing data, companies can pinpoint what people actually want and develop more personalized offers and incentives. This in turn increases brand engagement, drives more mobile transactions and leads to higher conversion rates.
Social apps and social commerce – social apps have led to increased usage of mobile devices, especially among millennials. These platforms open up new channels for brands to engage with their customers and offer tailored product recommendations.
Consumer expectations keep evolving
Today's consumers are using a combination of devices to make purchases, both in-store and online. In fact, a 2016 study showed that nearly 100% of millennial shoppers checked prices or compared merchandise on their smartphones before making in-store purchases during the holiday season.
Imagine that you buy something online from your favorite brand, but it doesn't fit and you have to return it. In today's world, you could either mail it, or go to a store and deal with the hassle of the checkout line. In the future, you might be automatically identified upon entering the store, and your phone could send you a notification with the location of the same item in a different size. Or perhaps you will place your thumb to the fitting room mirror and the item will be automatically purchased and sent to your home.
The bottom line is that brands need to be anywhere and everywhere their customers are and facilitate easy journeys across all touchpoints. On and offline borders are blending, and are rapidly changing consumers' expectations of a good shopping experience. As we move closer to an omnichannel world, a smooth and consistent journey will be a big differentiator.
Nothing happens without trust
Retailers can now truly get to know their customers and create individualized purchasing journeys, but none of this is possible without a strong sense of trust between the customer and the company. Establishing trust, especially when it comes to online payments, is critical. People need to feel secure and confident that their personal boundaries won't be crossed or their information misused.
Companies that create safe and trustworthy environments when asking for an online payment are much more likely to convert the sale than companies that don't. This includes small but meaningful details, such as offering recognizable payment products, using branded URLs and activating familiar security measures, to reduce friction and build trust in the process. In fact, mobile money is actually quite safe compared to other payment methods.
Connect to future UX expectations
With so much opportunity to personalize the UX it's surprising that so many online shopping carts are still regularly abandoned. In fact, only 37% of all transactions occur when customers browse across multiple devices, and only 31% of these transactions are actually completed on a mobile device.
The more customers use mobile devices to make purchases, the more likely they are to become repeat shoppers. Orders made with one or more mobile devices have shorter time-to-next-orders than PC-only orders. This means that as consumers continue to adopt mCommerce, their purchasing behaviors will grow stronger.
Although abandoned carts are still fairly common, potentially 60% of lost mobile sales globally could be recovered by merchants who make it easier for customers at the checkout stage. This includes offering local payment methods and currencies, being transparent about shipping costs and delivery times, and even including personalized messages and offers to recognized customers. Opportunities to expand mobile commerce abounds, especially as consumers become more assured of safety and buying experiences become more seamless.
The user experience matters more than many brands realize. As consumers, we are naturally inclined to interact more with companies we recognize and trust. Offering a smooth and engaging UX journey across all touchpoints – existing ones and future ones – is a powerful opportunity for businesses that want to exceed their customers' expectations.
Rik van 't Hof, Director of Front-End Product Management, Ingenico ePayments