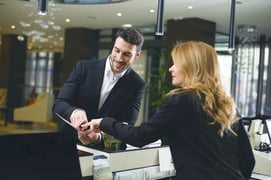 2018 is around the corner and travel & hospitality industry is expected to see more travelers in the new year. According to Deloitte's travel and hospitality industry outlook report, business travel spending hit a record-breaking $1.2 trillion in 2015. This number is expected to rise above 6 percent in 2018, according to Business Travel News. The Deloitte report also highlights that on the leisure side, households have increased spending on travel bookings over the last few years.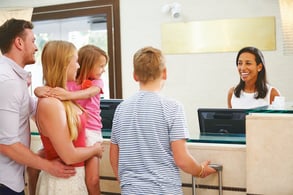 With the Increase in the number of travelers, hotel & lodging businesses need to work harder to beat their competition. Whether travelers stay at a five-star hotel on the Las Vegas strip, a golf resort in San Antonio, TX, a bed and breakfast in Vermont or a motel along route 66, these businesses are driven by travelers' expectations of service. According to Deloitte's travel and hospitality report, some of the overarching themes that govern customer expectations center around authenticity, personalized experiences, removal of friction and on-demand functionality.
These themes should guide hotel & lodging businesses toward new innovations and improvements in service and the experience they provide. Potential strategies include leveraging the latest payment solutions to help meet customer expectations and create new personalized experiences, seamless check-ins and check-outs and on-demand services.
Let's take a look at a few examples:
Making Check-Ins Easy – After travelers make their hotel bookings, the check-in process is their first face-to-face interaction with hotel staff. But busy travel seasons could entail long lines at the front desk for check-in. This is where innovative payment solutions can help remove the friction of the traditional check-in process and provide guests with a more personalized experience.

Remote Check-in – During the busy travel seasons, remote check-ins can help reduce friction while allowing hotel staffers to provide a more personalized experience as they're interacting with guests. With RFID-enabled payment solutions, hotel staff can encode a guest's room keys with a payment terminal or mobile point of sale (mPOS) device. This means hotel staff can help guests check-in at convenient locations such as the airport shuttle or anywhere on or off the property. Staffers can also use a tablet POS solution to look up guests' booking details, make any required changes and add credit card information by using a built-in card reader. With the room keys easily encoded, guests can go straight to their rooms without having to wait in line to speak to someone at the front desk.
Self-Service – Like remote check-ins, a self-service kiosk help reduce friction for a busy traveler. It can also help minimize check-in lines, cut costs and reduce staffing requirements while improving efficiency. Frequent business travelers are looking to get into the hotel, quickly check-in and get on with their stay. Self-service check-in kiosks help eliminate lines and provide greater convenience by allowing guests to check into their room and get encoded room keys without having to go to the front desk or interact with staff.

Bringing Payments to the Guest – Hanging out with family and friends by the hotel pool can make the perfect day for travelers, but it's also a lucrative opportunity for hotels and resorts to sell food and beverages. However, in many cases, the hotel restaurant or bar isn't near the pool, which poses challenges for service convenience and efficiency. Thankfully, with the right combination of wireless or mPOS solutions, servers can efficiently process food and beverage orders, provide personalized service and securely accept payments. Best of all, it can all happen quickly and conveniently at the point of service.
Providing Self-Service Convenience – Room service and c-store hours at a hotel can be limited, making it difficult for guests to grab a late night snack or something they left at home. However, vending machines can provide guests with on-demand beverages, snacks and even smartphone and other electronic accessories at any time they want. They can easily go to a vending machine on their floor or in the lobby and securely pay for the item of their choice.
These are just some of the examples of how hotel and lodging businesses can meet the expectations of today's travelers. But it's also important to know that guests' expectations will constantly evolve and change and hotel & lodging businesses will need to continue to provide unique experiences to keep their business.
You can learn more about how payment solutions can help enhance guest experiences—both now and into the future—by downloading our whitepaper, "How the Hospitality Industry is Innovating Guest Service with Payment Solutions."
You can also contact us with any questions and or to seek further assistance.
Bob Arsenault is Sales Executive at Ingenico Group, North America