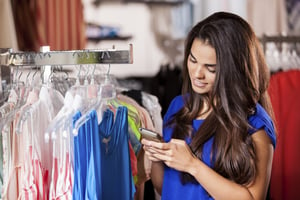 We live in a technology-driven world and the need to be at the forefront of it is important for any retail business. Providing customers with the utmost convenience as they shop and improving their experience is critical to any merchant's continuous success.
Many retailers today are providing their customers with the convenience of using a mobile app, which can help them shop, build lists and even integrate loyalty, with many of them also adding payment acceptance capabilities. According to Retail Dive, adding a payment feature to a mobile app increased by 57 percent from mid-2016 – mid-2017. What this means is that merchants are allowing customers to make in-store purchases through their mobile apps. In many cases, customers can use their mobile apps to pay for the merchandise on the app itself, completely skipping the checkout line. In other scenarios, customers can use payment credentials, already stored on their mobile app, to pay for the merchandise at the full service or self-service checkout stations.
Merchants are always looking to enhance their customers' in-store experience and provide them with tools to make payment frictionless. In-app payments come with many advantages and disadvantages for the retailer:
Advantages:
Improves Staff Efficiency: By adding an additional channel for the customer to shop and/or pay with, merchants not only provide convenience to the customer but also improve their own staff's efficiency. Staff saves time at checkout lines as many customers have the option to either pay on the app or use their phone to sync all the items they've bought. This saved time can be put other productive use in the store.
Speed of Transaction: In a retail environment, speed through checkout is a reasonable and a common priority for merchants. A Forrester research mentions how 26 percent of retail customers feel a "rapid checkout" is important to a great customer experience. A few seconds per transaction saved at checkout can go a long way for any retailer and its customers. Lines move more quickly and merchants can serve more customers in the same amount of time.
Customer Experience: Allowing customers to shop on an additional channel and providing them the convenience of paying via the app improves their overall shopping experience. Customers who are focused on just buying the merchandise without any consultation with the sales staff can use the app to purchase quickly and pay securely making their shopping experience more efficient.
Customer Touchpoints: Today's consumers are tech savvy and like to shop on multiple platforms. With a mobile app, merchants create an additional touchpoint with these consumers enabling effective targeted communication. This gives merchants additional opportunities to introduce loyalty programs to the consumer through push coupons, discounts and deals.
Disadvantages:
Higher Transaction Fees: In-app payments take place online and are categorized as card-not-present (CNP) transactions. Typically, these transactions have higher fees as compared to card-present (CP) transactions and can result in higher costs for any business. Businesses with low margins can suffer the most as high volumes of transactions can eat into their profits.
Reduction in Interpersonal Contact: In-app experiences might add convenience for the consumer, but they can limit the interpersonal communication between the staff and the customer. This reduces the opportunities the retailer has to build trust and even upsell other products.
Costly: Creating and maintaining mobile applications is not always economical and requires both an initial investment and a recurring expense to comply with frequent mobile OS changes. There will be an additional cost to integrate the mobile application into the existing POS infrastructure which can be highly dependent on the complexity of the solution. Given these costs, mobile applications, though beneficial, might not make sense for businesses of every type and size. For those businesses, it may make sense to invest in staff that helps elevate the customer experience, rather than costly technology.
The retail landscape is quickly changing and it is important for merchants to stay abreast with all new technological advancements. Using mobile apps to enhance customer experience can boost your business but it can also cost you more in terms of transaction fees. At the end of the day, it all comes down to the individual business and what makes sense for it holistically for you and your customers. If you are looking to understand what might be a good option for your business and would like more assistance with it, drop us a line.
Allen Friedman is VP of Solutions at Ingenico Group, North America