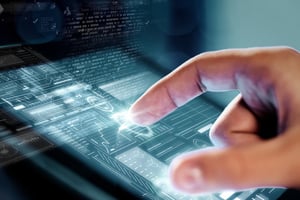 Payment technology is constantly evolving and every so often we are met with new terminology and solutions in the industry. This technology is often looking to drive innovation forward and make business solutions better. Two such terms that are being discussed frequently now are 'PIN on Glass' and 'PIN on Mobile.'
Many articles including this one in Payments Source discuss the difference between the two and many of our partners and customers have been asking about the technology as well.
As a part of our PIN on Mobile blog post series, I will be spending time and providing education on this emerging technology to our readers. Today, we start with providing more clarity on what PIN on Mobile is and how it works.
What is PIN on Glass?
In the world of payment acceptance, PIN on Glass refers to the entry of a PIN (in payment transactions) on a touchscreen of a PCI certified payment device. Think about a regular payment transaction at a retail store. Whether the customer dips their card into a payment acceptance device or uses a mobile wallet such as Apple Pay, and if the transaction requires a PIN, they usually enter it on the PIN pad built into the device. In a PIN on Glass scenario, they would enter the PIN on the touchscreen of that payment acceptance device.
What is PIN on Mobile?
In payment acceptance, PIN on Mobile is a common industry term specifically used to describe software-based PIN entry and authentication using a Consumer Off-the-Shelf (COTS) device, typically a tablet or mobile device. Think about a customer's payment experience at a retail store. Once they have used their preferred payment method to provide the payment card details, a PIN entry may be required. In a PIN on Mobile scenario, the customer will enter it on a consumer-grade tablet/mobile device that the merchant is using as their POS. The big reason why that is different from PIN on Glass is because the consumer-grade mobile device is not PCI-certified. A traditional payment device with a touchscreen or keypad needs to follow different protocols for PIN entry as compared to a mobile device such as a tablet or smartphone.. But there is a way to make it all work.
How does PIN on Mobile work?
PIN entry in a PIN on Mobile scenario works differently than the traditional terminals with physical keypads. In PIN on Mobile, the PIN is entered through a keypad on the touchscreen of a payment device. These payment card devices are PCI compliant and can be integrated with any POS system.
With PIN on mobile, a chip card reader is still used to initiate the payment, but the PIN is entered through a software application running on the merchant's COTS. This software application securely accepts the PIN without letting the mobile device's system interfere, thus insuring security.
PIN on mobile eliminates the need for the card reader to include a physical keypad, which means the card reader is typically smaller and less expensive and idea for small and micro-merchants who might not have the budget for a more comprehensive, enterprise-grade solution.
Hope this was helpful. Feel free to ask your PIN on Mobile related questions in the comments section below or you can also submit your questions on our Ask an Expert section.
Irfan Nasir is the Head of Solutions Development & Deployment at Ingenico Group, North America
Related Blog Posts: