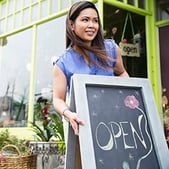 While PIN on Mobile is becoming a popular topic of conversation in the industry, there is still a lot of questions out there about the solution. In my last blog post, I talked about the basics of PIN on Mobile and how it works. In this post, I discuss which vertical benefits the most from PIN on Mobile and why. While PIN on Mobile is still making its way into the US, it is important for merchants of all sizes to understand why this solution matters and how it might be helpful for their business.
What Verticals Could Benefit from PIN on Mobile?
Though most innovative payment solution can benefit merchants of any size, PIN on Mobile is specifically designed to be a low-cost solution apt for small businesses and micro-merchants. Typically, these merchants have a low volume of transactions in their business compared to bigger players. While investing in enterprise-grade solution might make sense for a large merchant that can take advantage of its array of features and benefits, small businesses often prefer to take an economic route.
Whether you are a food truck selling in mobile locations, an artist selling merchandise at the farmer's market or even a small retail store, a PIN on mobile solution can help you reduce your technology costs while securely accepting payments.
Why Should PIN on Mobile Matter to Small Businesses and Micro-Merchants?
PIN on Mobile is great business solution for any small business /micro-merchant for three main reasons – cost effectiveness, low transaction volume and mobility.
Cost Effectiveness: Micro-merchants have smaller budgets which can limit their hardware choices for payment infrastructure. PIN on Mobile allows them to connect a low-cost payment card reader to their own consumer-grade tablet or mobile device and securely accept electronic payments. This way, they don't spend a lot on payment technology and are still able to securely accept the latest forms of payment including EMV chip and PIN.
Low Transaction Volumes: Compared to big retailers, small and micro-merchants have low transaction volume. This means that they are most likely to opt for low-cost payment acceptance options that won't compromise on the security of the transactions. PIN on mobile allows them to achieve just that. With the help of a low-cost card reader and their own consumer-grade tablet or mobile device, these micro-merchants can securely accept payment in their business.
Mobility: In order to reach their target audience, small and micro-merchants sometimes need to take their business mobile and visit different locations. Farmers markets, trade shows, pop-up locations, etc. are just a few examples. In these situations, PIN on Mobile solutions can help micro-merchants securely accept electronic payment without investing in expensive hardware that might not even be the best solution for them.
Hope this was helpful. Feel free to ask your PIN on Mobile related questions in the comments section below or you can also submit them on our Ask an Expert page.
Irfan Nasir is the Head of Solutions Development & Deployment at Ingenico Group, North America
Related Blog Posts: