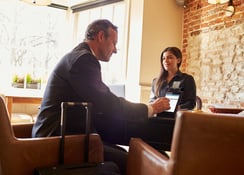 2019 has begun and the travel & hospitality industries are expected to see many more travelers this year compared to the past. According to Deloitte's travel and hospitality industry outlook report, global travel industry gross bookings reached $1.6 trillion in 2017 and it is one of the largest and fastest growing sectors.
The report also highlights that over the past two decades international travel departures across the globe have doubled from 600 million to 1.3 billion. As more people are getting ready to travel this year, hospitality businesses need to pull up their socks and work harder to beat their competition by providing meaningful experiences for their guests.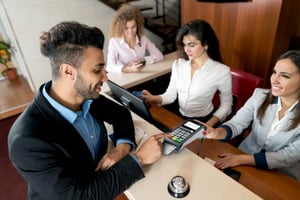 Whether travelers are staying at high-end hotels in New York City, flying low-cost airlines across continents or even eating at highly-rated restaurants in San Francisco, these businesses are driven by travelers' expectations of excellent experience. The Deloitte report also highlights how the spending has shifted among travelers from products to experiences. Expenditure on durable goods such as appliances, cars, furniture has been on the decline. On the other hand, spending on experiential activities such as travel, restaurants is trending up. Travel and hospitality businesses need to focus on creating these meaningful experiences for their guests to beat the competition and grow their revenue. Payment technology and commerce solutions can be a key component in assisting these businesses to achieve their goal. Here's how:
1. Easy Check-Ins
For travelers, the check-in process is their first in-person interaction with hotel However, busy travel seasons could result in longer lines at the front desk. This is where innovative payment technology can help and remove friction from the traditional check-in process with remote check-ins. This new method allows hotel staffers to provide a more personalized experience to their guests as they enter the hotel. With RFID-enabled payment solutions, the staff can encode a guest's room keys with a payment terminal or mobile point of sale (mobile POS) device. This enables hotel staff to help guests check-in at convenient locations such as the airport shuttle or anywhere on or off the property.
The hotel staff can also use a tablet POS solution to look up guests' booking details, make any required changes, consult on upgrades and even add credit card information by using a built-in card reader. With their room keys quickly encoded, guests can go straight to their rooms without having to wait in line to speak to someone at the front desk.
2. Self-Service Kiosks
Self-service kiosks can help travel and hospitality businesses provide a great experience to their guests. In hotels, guests can easily check-in on their own when they arrive at a hotel without talking to a person at the front desk. This not only helps busy travelers go about their check-in process quickly, but it can also create efficiencies for the business by reducing staff requirements. In the airline industry, travelers already can use the self-service kiosks for their check-in process that also allows them to print their boarding passes, upgrade their travel itinerary, etc. In the restaurant space, self-service kiosks are beginning to make a splash in the U.S. Other than helping restaurants improve staff efficiency, capitalize on upselling opportunities and even increasing the average ticket item, self-service kiosks provide guests with a unique experience while they visit a quick service restaurant (QSR).
3. Bringing Payments to the Guest
Mobility in payments is trending up in many industries including hotels, airlines and Other than bringing the check-in experience to guests in hotels, they can also accept payments for any additional services that are rendered. Whether guests are ordering food from the poolside in a resort or even room service, hotels can securely accept payments with mobile POS solutions. In restaurants, Pay-at-the-Table is becoming the norm and is being also combined with mobile ordering where the server takes the customer's order on a mobile device. This not only provides a unique experience for the guests but also creates efficiencies for the restaurant. Many airlines today accept payments on board for food, beverages and even merchandise. With innovative technology such as tablet POS solutions available at the airlines' disposal, they can take their guests' experience to another level. With the right combination of wireless or mobile POS solutions, businesses can securely accept all forms of electronic payments and provide a personalized experience to their guests. Best of all, it can all happen quickly and conveniently at the point of service.
4. Vending Convenience
Room service or convenience store hours at hotels can be limited, making it difficult for guests to grab a late-night snack or buy a phone charger they might have forgotten at home. However, vending machines can provide guests with on-demand beverages, snacks and even smartphone and other electronic accessories at any time they want. They can easily go to a vending machine on their floor or in the lobby and securely pay for the item of their choice.
These are just some examples of how travel and hospitality businesses can meet the expectations of today's travelers. But it's also important to know that guests' expectations will constantly evolve and change, and these businesses will need to continue to provide unique and meaningful experiences to keep them coming back. Get started with enhancing your guests' experience in your business, drop us a line.
Bob Arsenault is Senior Account Executive, Hospitality at Ingenico Group, North America